Page - About the Moon Water Lodge
OUR STORY
New Look, New Owners
The Lodge and Chalet were purchased by Randy & Lori Strandlund in March, 2014, with a vision to bring back the community spirit and showcase to the world, this unique and special place. After upgrades to the hotel and extensive renovations in the restaurant, the Moon Water Lodge and Malahat Chalet opened in Spring 2014.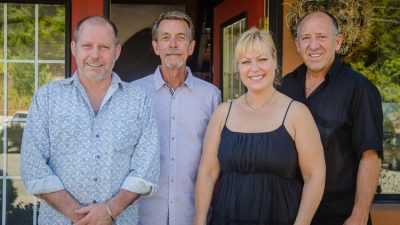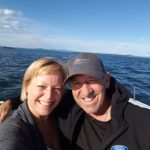 From Here, the Eagle meets the Sun
Virtual room tour with Romance Package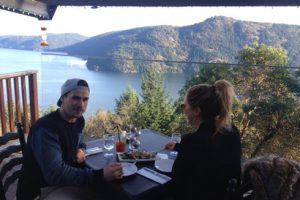 OFFERING YOU THE BEST EXPERIENCE
Moon water lodge offers one of Canada's best views…. right here on Vancouver Island. All rooms have this amazing view along with a soaker tub, gas fireplace and private balcony.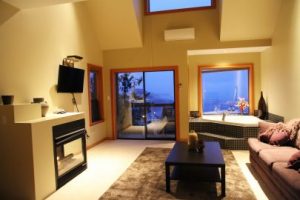 LUXURY ROOMS TO FIT YOUR NEEDS
At the Moon Water Lodge we do our best to accommodate everyone's rooming needs! We have spacious, luxury rooms with lofted bedrooms that sleep up to 6 guests; and cozier, single level rooms.  We have two rooms with full kitchens, and , all rooms have bar fridges, in room coffee and tea.  There is plenty of WiFi for everyone and it's always free.  We even have several Pet Friendly rooms for your furry family members.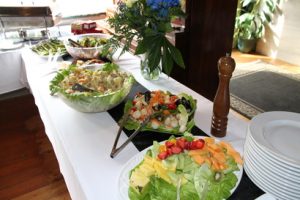 FRESH & DELICIOUS MEALS
Join us for home-style, in-house made REAL Canadian Comfort Food! We use local, organic, HORMONE FREE food wherever possible! We also proud to serve a fine selection of local beer, wine and ciders.
OUR HISTORY
Step back in history…Dine and Stay with us
The Malahat Chalet was originally build in 1905! As a pit-stop along the World Famous, Historical Malahat Trail! In the early years, the "Chalet" was a Post Office and pit stop for travellers making the trek from Mill Bay to Victoria!
Area history dating back to the late 1800's 
It would be impossible to put a road between Mill Bay and Victoria! That is what the locals, back in the late 1800's were told. But, determination, strong will and perseverance proved to win over and in 1911, the Malahat Trail was complete! The Malahat gained fame, as a spectacular drive, but also very difficult and only the brave would drive it! The old cars would often have to pull logs behind to stop them from going to fast down the steep road. Over the years, the Malahat Highway has been improved, widened, brightened and today it is a beautiful 15 minute drive through spectacular, old growth forest.
Today, the Moon Water Lodge and the Malahat Chalet remain, proud near the summit, overlooking the timeless, Finlayson Arm. Take a step back in time, and enjoy what so many have enjoyed for over 200 years now…the view at the Moon Water Lodge and the Malahat Chalet.
TESTIMONIALS
Awesome Stay, would definitely stay again!
M and C Thovenet
Lovely rooms and view. MAGIC!
Dayna and Mike, regulars
This place – not out of the way – just out of this world!

A Atkinson
Wonderful Stay! Delicious Dinner!! We loved it here! Thank you.
D and M Trosko